Step One: Database
Our school password: madcohs
Step Two: Check out topic pages
Click "Browse Topics" on the top left of the screen.
Click on the topic of choice. For this example Mexico has been selected.
This brings up a topic pages that looks like this:
Topics are a great place to get started because topic pages lead you to more relevant information. It does a lot of the searching for you.
Here we can see there are 149 reference articles related to Mexico.
There are 6 biographies about famous Mexicans.
The database has 96 images you could use in a project.
3 of the sources are primary sources. Primary sources are items such as an artifact, a document, diary, manuscript, autobiography, a recording, or other source of information that was created at the time under study.
3,862 articles are from newspapers.
3,758 articles are from magazines.
There are 620 articles from academic journals.
There are 50 videos and 406 audio files.
And finally, there is a list of related topics to narrow your search.

Step Three: Choose an article
Below is an article I selected from the reference section.
On any article you click on you will get the following tools:
Audio - Every article gives you the option to listen to the article.
Save - This saves the article in your Google Drive.
Citation Tools - This gives you the choice to cite in either MLA or APA. Once again your choice is saved directly in your Google Drive.

Step Four: Keep Reading and Searching
If your topic page has what you need, great! If not, you can try searching a related topic, try a new topic page, or enter your own search terms.
Remember to always ask Mrs. LaVoie is you have any questions!

Powered by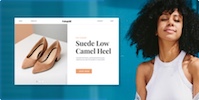 Create your own unique website with customizable templates.